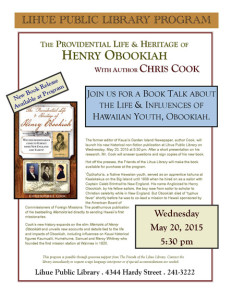 (Waimea, Kauai May 13, 2015) – Kaua'i author Chris Cook is unveiling his fresh non-fiction account of the life of 'Ōpūkahai'a, the Native Hawaiian scholar whose life and death (1787-1818) sent American missionaries to Hawai'i. New England sailors anglicized the youth's name to Henry Obookiah.
The Providential Life & Heritage of Henry Obookiah published by Pa'a Studios of Waimea, Kaua'i is being released Friday, May 15.
To celebrate the book's release, the Friends of Līhu'e Library is hosting a book talk by Cook at the Līhu'e Public Library on Wednesday, May 20, at 5:30 pm. After a short presentation on his research, Cook will be available to answer questions and to sign copies of his new book.
The Friends of the Līhu'e Library will make the book available for purchase at the program. A portion of the proceeds will benefit the library.
'Ōpūkahai'a served as an apprentice kahuna at the Hikiau Heiau on the coast of Kealakekua Bay on the Island of Hawai'i until 1808 when he hired on as a sailor with Captain Caleb Brintnall of New Haven. Henry rose from sailor to scholar to Christian celebrity. Obookiah died of typhus fever in Cornwall, Connecticut shortly before he was to co-lead a mission to Hawaii sponsored by the American Board of Commissioners of Foreign Missions.
Cook's new history expands on the slim Memoirs of Henry Obookiah and unveils new accounts and details tied to the life and impacts of Obookiah. Included are Obookiah's influences on Kauai historical figures Kaumuali'i, Humehume, and Samuel and Mercy Whitney who founded the first mission station at Waimea in 1820.
Cook is the author of the best-selling Kaua'i Movie Book and former editor of The Garden Island newspaper.
The author is also appearing at the Talk Story Bookstore in Hānāpepe during Art Night from 6:00-9:00 pm on Friday evening, May 22. And at Hui O Laka's Banana Poka Festival at the Kanaloahuluhulu Meadow near the Koke'e Museum on Sunday, May 24 at 12:30 pm.