A month-long commemoration is underway across New England commemorating the departure of the Sandwich Islands Mission for Hawai'i from the Park Street Church and the Long Wharf in Boston in October 1819.
A group from the Hawaiian Mission Houses is presenting across New England the one-man play My Name is 'Ōpūkaha'ia with top Hawai'i actor Moses Goods in the title roll.

Moses Goods performing My Name is 'Ōpūkaha'ia at the American Antiquarian Society in Worcester, Massachusetts on Tuesday, October 8, 2019.
At the Congregational Library on Beacon Street in Boston, on Wednesday, October 9, 2019, I joined Moses Goods and Noelani Arista, author of The Kingdom and the Republic – Sovereign Hawai'i and the Early United States, in discussing the impact of 'Ōpukaha'ia on Hawai'i and New England. This followed Moses' performance.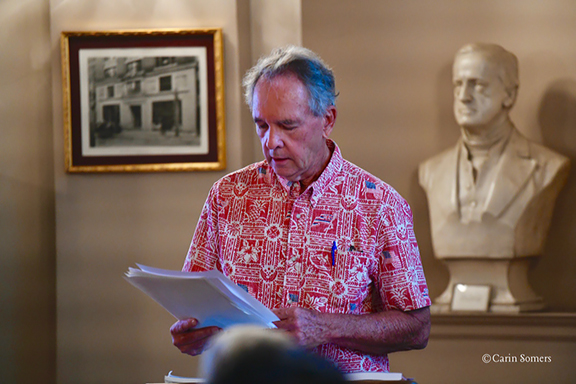 Photo courtesy Carin Sommers
Christopher Cook speaking at the Congregational Library in Boston on Wednesday, October 9, 2019.
I am scheduled to speak at the Park Street Church in Boston on Sunday, October 20, between the morning services in the community hall at the church. I will be joinning Kahu Ken Makuakane of the Kawaiaha'o Church.
The Hana Hou tour also starts on Sunday, October 20. I am serving as the interpretive guide for this week-long tour of historical sites linked to the Christian history of Hawai'i and of New England.
Go to missionhouses.org for information on activities coming up during Hawai'i Week in Boston October 17-23, 2019.
Watch for updates at www.obookiah.com on the exciting Hawai'i Mission Bicentennial events coming up in Boston and beyond.