Charmian London, the wife of acclaimed American author Jack London, visited the Hikiau Heiau at Napo'opo'o in 1920. Charmian's propitious visit fell during the services surrounding the unveiling of a stone marker commemorating the life and legacy of Ōpūkaha'ia. Jack London died November 22, 1916 at his home in rural Glen Ellen, California north of San Francisco. The couple sailed to Hawai'i aboard their ketch the Snark in 1907, and returned again in 1915 and 1916.
In her book Our Hawaii (Islands and Islanders) (1922 edition,  pp. 415-419) Charmian wrote:
"Doubtless I heard and listened to the same natives, but in their unlovely modern clothes, at a church convention song-festival in Napoopoo, part of the centennial commemoration of Opukahaia. The best voices on the island were there, sweet, pure, true, melodious. I sat on a bench with my back to the singers, but more particularly, to the glaring lanterns; swinging my feet over a small surf and dreaming into the starry night. 'What dreams may come,' when one revisits lands where one's own romance has been enacted. I thought I saw the Snark's headsails come questing through the gloom around the point — my little ship of dreams realized.
Charmian London (second from left) enjoys a laugh with native Hawaiians during her visit to Hawai'i in 1907. Photo by Jack London. Public domain, posted by Jack London Society.
"Upon the outskirts of Napoopoo village lie the well preserved remains of Hikiau heiau where the monument to the famous young Hawaii Christian of a century ago was unveiled with day-long song and prayer and genuine Hawaiian oratory. This temple, which has been cleared of debris, shows half a dozen shallow terraces rising to the final shrine. Here one can see the very holes where once stood the idol-posts. In the middle of this level is a divided wall inclosure. A short distance southeast of the savage edifice, one comes upon a small stone platform where was the house of Opukahaia's uncle, with its family chapel — I should say heiau; and two tall coconut palms which the boy is supposed to have planted.
"The new monument stands hard against the outer southwest corner of the impressive Hikiau temple, that point being nearest to where Opukahaia had lived, and from where he sailed quite literally for the bourne whence there was no return for him. The Anglicized inscription follows: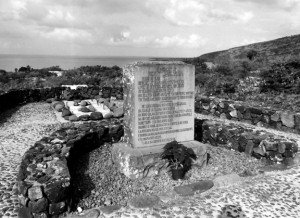 IN MEMORY OF 
HENRY OPUKAHAIA
Born in Kau 1792.
Resided at Napoopoo 1797-1808
Lived in New England Until His Death at Cornwall Conn., in 1818.
His Zeal for Christ and Love for His People Inspired the First American Board Mission to Hawaii in 1820."
The Ōpūkaha'ia Memorial Marker stone dedicated in 1920 was moved from the makai side of the Hikiau Heiau to the churchyard of the Kahikolu Church overlooking Kealakekua Bay. The stone now stands alongside the grave of Ōpūkaha'ia. His remains were returned by his family in 1993 from the Cornwall, Connecticut graveyard. Ōpūkaha'ia, known as Henry Obookiah in New England, died from typhus fever in February, 1818. Photo by Chris Cook