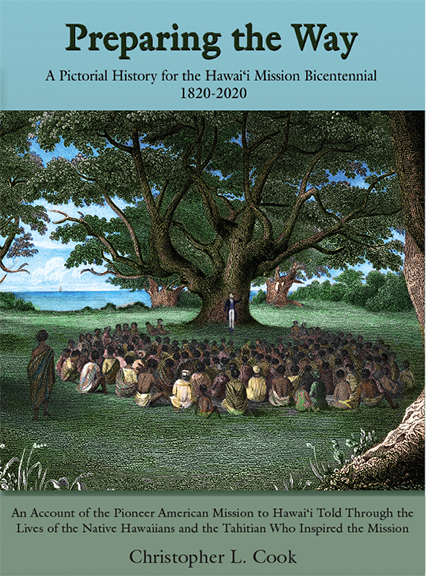 Preparing the Way presents a remarkable full color pictorial account of the pioneer American Protestant mission to Hawai'i that sailed from Boston in 1819 and arrived in 1820.
Christopher "Chris" Cook, author of the The Providential Life & Heritage of Henry Obookiah, a ground-breaking, modern-day biography of the legendary first Native Hawaiian Christian. In Preparing the Way the author's indepth research and collection of previously unpublished photographs and illustrations, tells the true story of this mission to Hawai'i made infamous by novelist James Michener in his fictious best-seller Hawaii.
Cook portrays the Hawai'i mission through the lives of three notable Polynesian men.
Surprisingly, the author notes that the Hawai'i mission sailed from Boston Harbor in 1819 at the invitation of a native Hawaiian scholar who gained a college-level education in New England schools. 'Ōpūkaha'ia, the first known native Hawaiian Christian, welcomed American missionaries to his homeland with a Macedonian Call. "Come help us."
The celebrity 'Ōpūkaha'ia acquired following his untimely death in 1818 in the rural Connecticut village of Cornwall set in motion the mission, resulting in the Hawaiian Islands becoming a Christian nation within a generation.
Hopu, 'Ōpūkaha'ia's young companion, sailed with the pioneer mission company, taking on the mantle of 'Ōpūkaha'ia. Hopu played a vital role in establishing the early mission stations, in Kailua, Kona and in Honolulu.
Auna, a handsome Tahitian warrior-priest who embodied the saintliness of 'Ōpūkaha'ia and the strength of the famous Hawaiian king and conqueror Kamehameha I, landed in Hawai'i in 1822. Auna told of how his homeland had embraced Christianity. This messanger from the Polynesian homeland of Hawai'i followed the ancient Hawaiian tradition of new religious revelation coming to Hawai'i from Kahiki (Tahiti), thus inspiring the rulers of Hawai'i to embrace Christianity, forever changing their nation.
Preparing the Way is to be published in early 2020. The 160-page full-color oversized pictorial book commemorates the Hawai'i Mission Bicentennial being celebrated in New England and across Hawai'i in 2019-2020.