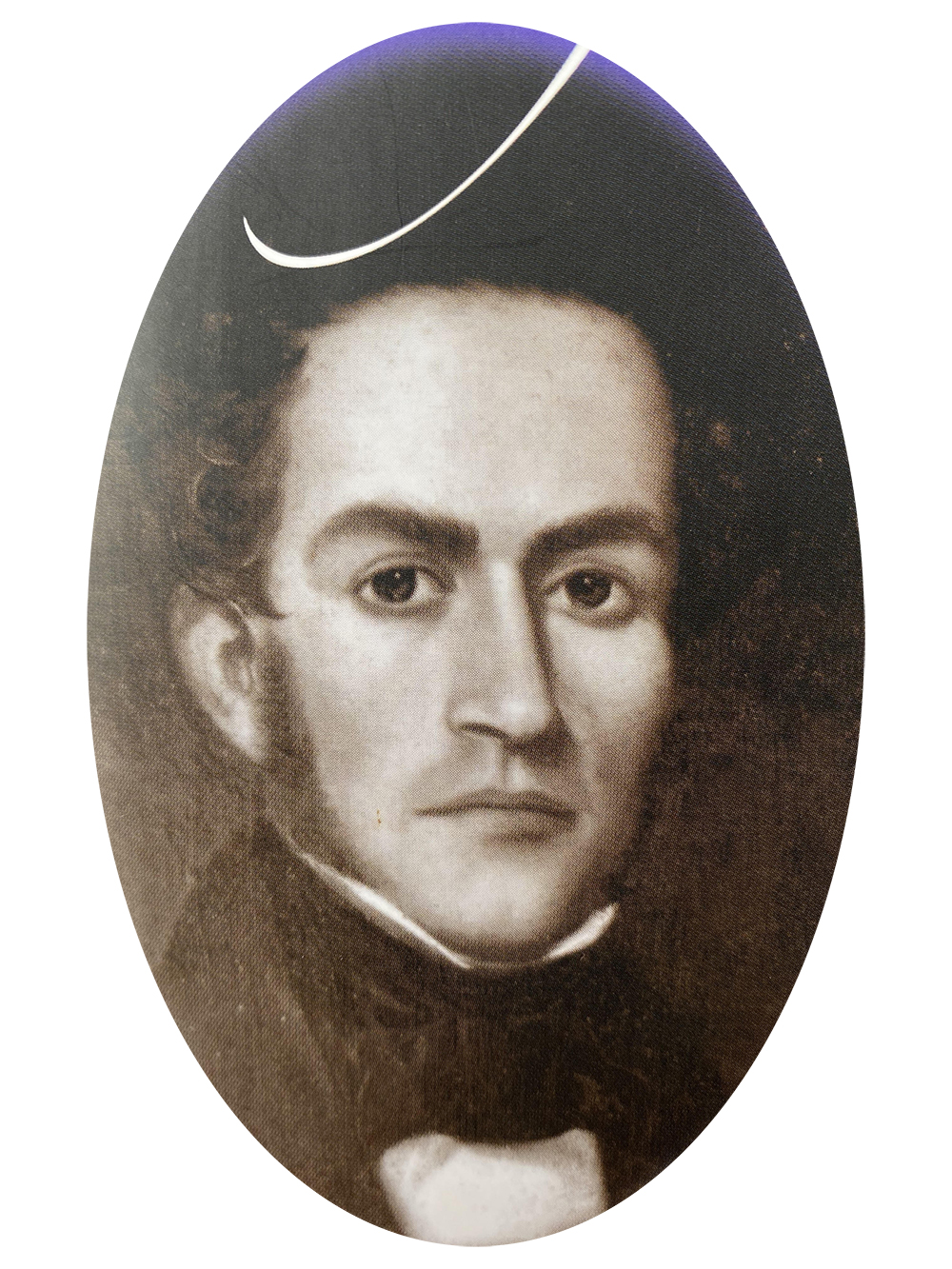 Dr. James Smith of Kōloa Mission Station portrait by Samuel F. B. Morse prior to his departure for the Hawaiian Islands from Boston in 1842.
I have gained a broader perspective on our current quarantine situation here in Hawai'i, particularly on Kaua'i, by reading an account of how Kaua'i missionary doctor James Smith of Kōloa kept Kaua'i and Ni'ihau from suffering the ravages of a smallpox (mai pu'upu'u li'ili'i) epidemic in 1853. This plague is considered the most deadly faced by Native Hawaiians since western diseases began decimating the Native Hawaiian population following the arrival of Captain James Cook in 1778.
Below I have taken freely from an account titled The Battle Against Smallpox written by my late wife Evelyn Cook in her book 100 Years of Healing – The Legacy of a Kauai Missionary Doctor. Mahalo to the Smith family for permission to use facts from this material for my post.
---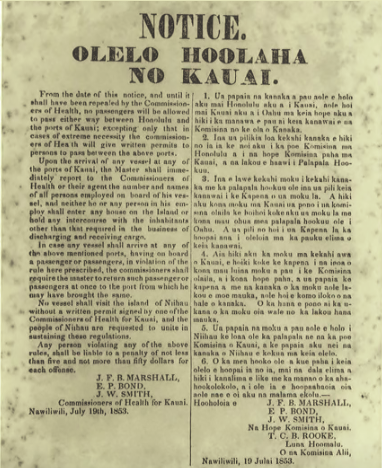 This broadside printed in Hawaiian and English and posted by the

 

Kauai Commissioners of Health during the 1853 small pox epidemic warned inter-island ship passengers that they were not allowed to sail from Kaua'i to O'ahu, nor from O'ahu to Kaua'i, essentially quarenting the island from outsiders. The document is dated Nawiliwili July 19th, 1853. The Kauai Commissioners were J. E. B. Marshall, E. P. Bond, and Dr. James Smith of the Koloa Mission Station.  Only "in cases of extreme necessity" would a passenger be allowed. The quarantine worked, a report following the epidemic showed a low death count from smallpox on Kaua'i, while thousands died in Honolulu and outlying district. (From the Kahn Collection, Hawaii State Archives)
A smallpox epidemic broke out in Honolulu in February 1853, brought aboard an American ship headed from San Francisco to China. Though the ship was quarantined, the deadly disease came ashore and by May was ravaging the people of Honolulu and outlying districts, most of the victims were Native Hawaiians. The epidemic targeted the young and old, and those living in poverty. 
In Honolulu smallpox victims died by the hundreds, then by the thousands. The epidemic spread into the summer and fall of 1853 and didn't back off until early 1854. Medical reports from that time counted a range of 6,405 to 11,081 cases, and between 2,485 and 5,947 deaths on O'ahu. The Ewa district out to Waianae was especially hard hit, with an estimate of a loss of half the population. Some 448 deaths were reported on other Hawaiian islands, but Kaua'i was spared the smallpox onslaught that plagued O'ahu through the dedication of Dr. James Smith, the resident American missionary doctor stationed at Kōloa. 
Smith took quick action when word of the Honolulu smallpox outbreak arrived at Kōloa. Traveling on horseback and foot, traversing rough trails, streams and steep gulches, and by outrigger canoe to Niihau and remote areas, he vaccinated the entire mostly Native Hawaiian population of both Kaua'i and Ni'ihau. Smith applied his training in scientific medical practices gained at a New York City medical school to alleviate the plague Kaua'i faced. Only a small number of people living on the island had earlier been vaccinated for smallpox.
Smith later humbly reported to the Hawaiian mission headquarters in Honolulu: "Through a merciful Providence the Small Pox, which produced such frightful ravages on O'ahu, passed over us very lightly. There were but 5 cases in our district (ed. probably in Kōloa District), only one of which proved fatal."
The smallpox epidemic of 1853-1854 inspired King Kamehameha IV and Queen Emma to open the Queen's Hospital in Honolulu. Hale Aloha in Lahaina, Maui was dedicated as a memorial to God's sparing the Maui seaport from the smallpox epidemic. There American Board missionary the Rev. Dwight Baldwin rode his horse across Maui to inoculate the people of that island.  
Outbreaks of smallpox occurred in Hawaii in 1861, 1873, and 1882. Dr. Smith and the doctors who followed him kept inoculating their patients and thankfully the later smallpox epidemics passed lightly over Kaua'i and Ni'ihau.
Smith arrived at Kōloa in the early 1840s to serve as a resident missionary doctor. He left behind a lucrative career serving as a physician in New York City for five years. Instead, he used his education at the New York College of Physicians and Surgeons to serve the people of Kaua'i. 
The American Board of Commissioners for Foreign Missions accepted Smith's application to be a missionary doctor. He and his wife newly wed wife Melicent sailed from Boston in 1842 as members of the Tenth Company of American Board missionaries sent to Hawai'i. 
In his application to the American Board Smith noted he was influenced to dedicate his life and skills in a foreign land after meeting a missionary to China. Through that connection he met medical students studying at his medical school who planned to go out as missionary doctors. 
He was inspired to end his practice in New York City in 1839 when he read a notice of the need for a physician for the Sandwich Islands Mission. He then decided dedicate his life as a missionary to the Hawaiian Islands.
He explained in his application, "I feel that I am not my own, that I am the Lord's, and that every consideration demands I should labor in that part of the vineyard where His providence seems to direct."
In November 1842 the Smiths landed and settled at Kōloa, Kaua'i.
Smith went into private practice in 1851, leaving the covering of the Hawaiian mission, though still serving as a missionary at the church in Kōloa. He was later ordained as a minister. Smith became a citizen of the Kingdom of Hawai'i and made a living by charging western residents for his medical services, while freely giving medical care to the Native Hawaiian community for free.