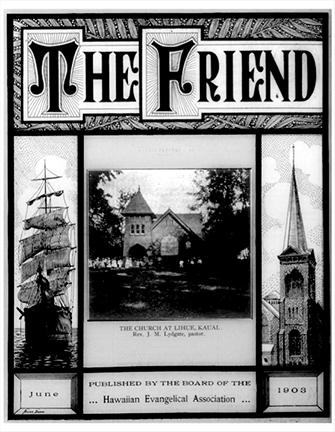 from The Friend June 1903
Christianity spread across the Hawaiian archipelago beginning in 1820. While literacy, the printed word, harmonious hymn singing, church gatherings, and western medical care inspired the people of Hawai'i to become a Christian nation within a generation, the faithfulness towards – and a belief in – Christ lay at the heart of this transformation of the Hawaiian people and formation of their unique style of Christian worship. Following is the story of a Native Hawaiian man from Moloka'i named Kealiikukahaooa whose life embodies this transformation. He likely lived out in Hawai'i every year of the nineteenth century, seeing first-hand the transformation of the Hawaiian Kingdom. Kealiikukahaooa lived to be over a hundred years old, he grew up worshipping a pantheon of Polynesian gods; as a man in Kamehameha-era Hawai'i he lived under the fear of breaking one of the stringent laws of the 'Ai Kapū system, with facing a penalty of being sacrificed at the altar of a heiau. He saw Kamehameha in person, and observed the missionaries arriving beginning in 1820 about six months following the death of the legendary king. In mid-life he left behind his troubled past and learned how to read. His text was the scriptures of the Bible as translated into the Hawaiian language. In the early twentieth century he dwelt in Waianae, O'ahu with his son, the Rev. Joseph Kaiakea Kekahuna pastor of the Protestant ekalesia [church] in Wai'anae. Rev. Kekahuna studied under missionary William P. Alexander at Wailuku and ordained in 1869. Kealiikukahaooa as an elderly venerated kupuna could look back on decades of life as a devoted Christian while maintaining his cultural heritage as a Native Hawaiian who knew both the old and the new ways of Hawai'i.
---
In the household of the Waianae pastor, there lives an aged man, who is probably over one hundred years old. The household includes further Rev. S. P. Kaaia, his wife, his cousin, Rev. J. Kekahuna, the judge of the district. While visiting there not long since, I noticed the careful attention given to the wants of this old man, and on inquiry, I learned the following interesting facts:
Kealiikukahaooa, father of Rev, J. Kekahuna and uncle of Rev. S. P. Kaaia, was the son of Kapaiulani, konohiki (chief man) of the land of Ohia and Manowai, Island of Molokai. He was a grown man when the missionaries came in 1820, and had seen Kamehameha the First. He joined the church in 1842, under the pastorate of Father Hitchcock, and has been a constant church attendant ever since. He never drank liquor, neither awa, uala, nor imported liquor of any kind. He never smoked, nor was he ever troubled with any hoomanamana (fetish worship) tendency. He looks with disapproval on all kinds of bottled drinks, is suspicious of soda water and everything that has a "pop." Once when ill it was with difficulty that he could be persuaded to take any medicine. This centenarian can still read without glasses; indeed he has never used them. He has a retentive memory and can repeat chapter after chapter of the Bible. He learned to read in his maturity and has ever since made constant use of Scripture; before he joined the church he was a probationer for several years. He was the father of nine children. When Kekahuna had learned what he could at the district schools and expressed a desire to continue his studies at Lahainaluna, his father took him one Saturday in his canoe over to Lahaina and thence to the school at Lahainaluna, where young Kekahuna was installed as a pupil, a classmate of other men who have also made their mark in Hawaiian history.
"During those days," said the judge, "there was very little money in currency, and I went through the course of study with practically none. Every Saturday my father would take his canoe across the boisterous Molokai channel and trudge up the hill with packages of paiai and dried fish as my food for the week. When I needed clothing he would bring an extra supply and barter it for a little money. He thus helped me through my three years of school life without leaving me at any time in want of necessary supplies. Through the stormy days of winter, when the winds and the waves of the channel were high, or in the sultry season, when they died away, and he had to use the paddle, that canoe would be beached every week somewhere along the shore and the weekly supply of provisions would come to hand. Do you think I could ever forget those days of strenuous effort and patient, loving service?" 0. P. E…