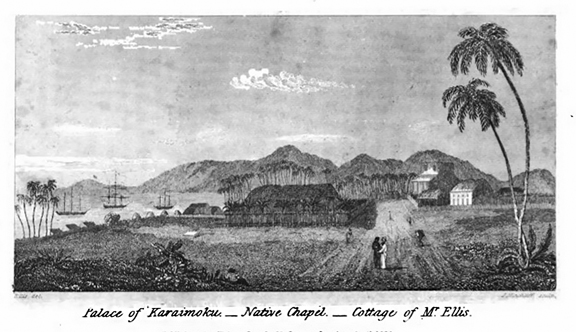 ---

New details on the death of George Kaumuali'i [George Tamoree – Humehume] appear in the April 25, 1828 issue of the Philadelphian newspaper. The unsigned front page news report titled simply George Tamoree was apparently written by Elisha Loomis. Elisha had returned from Hawai'i to the United States in 1827 due to illness. Loomis served as the printer for the Sandwich Islands Mission's Pioneer Company.
In the article, Elisha tells of seeing George the day before his death from influenza in 1826 in Honolulu. He reports that Kalanimoku, the Christian prime minister of the Hawaiian Kingdom, told him details of George's painful last hours.
Elisha knew George Kaumuali'i well. Both Elisha and George studied together during the summer 1819 term at the Foreign Mission School in Cornwall, Connecticut, they sailed together aboard the voyage of the brig Thaddeus leaving from Boston in October 1819 for Hawai'i, and for years after their arrival in Hawai'i in the spring of 1820, both in Kaua'i and in Honolulu during the last years of George's life.
Click here to read the article.
Elisha returned to New York State due to illness (he died later in the 1830s). He continued his service to the American Board's mission to Hawai'i by printing Ka Euanelio a Mataio [The Gospel of John] and other Gospels on a press in Rochester. Elisha edited and published a Christian newspaper in Rochester to earn a living while continuing despite bad health to print the Hawaiian language Gospels which were shipped back to Hawai'i for distribution.